Buxton Opera House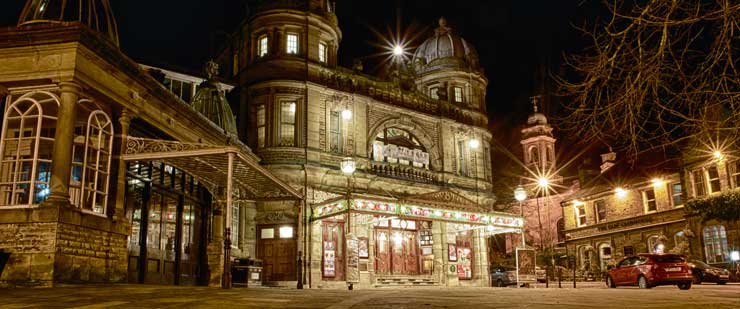 Buxton Opera House opened its doors to an appreciative audience on 1 June 1903. A full house was treated to a performance written specially for the occasion, The Prologue, followed by the first plays to be staged My Milliners Bill and Mrs Willoughby's Kiss. For the next three decades, the Opera House ran a series of successful and vibrant theatre displays with touring Shakespeare companies arriving. They put on West End shows, concerts and musical comedy and also ballets and in 1925 the great Anna Pavlova performed The Dance Of The Dying Swan to great acclaim.
In 1927. The theatre was turned into a cinema and silent films shown at first. In 1932 sound arrived and 'talkies' took over when the theatre was wired the sound. There was still a huge demand for live performances and Lilian Bayliss, a woman of great vision and manager of London's old Vic, presented summer festivals in Buxton in 1937 and 1939, bringing with her stars to delight the Buxton audiences such as Robert Donat, Anthony Quayle, Alec Guinness, and Robert Morley.

Throughout the 50s and 60s audiences began to diminish and the opera house unfortunately fell into disrepair. In October 1976. The theatre was closed until spring and rumours circulated it would never reopen but happily in 1979, due to dedicated work by many people both locally and nationally, the Opera house was restored to its original splendour and an orchestra pit was added to the original Frank Matcham design, which had been unaltered since 1903.
In the late 1990s, it became apparent that the Opera house needed further restoration work to secure its future into the millennium and beyond, and an extensive programme of internal and external restorations began between October 1999 and June of 2001 when it was completed. Since then, the Opera house has made a remarkable comeback and a success story which has developed as a community theatre for lots of tastes and ages, continuing to attract famous names, including Elvis Costello, Peter Kay, Bill Wyman, Ken Dodd, Sarah Millican and Russell Howard, Patricia Routledge, the Osmonds and Aled Jones to name but a few.
It is now one of Britain's leading receiving theatres and presents around 450 performances each year, including dance, comedy, children shows and drama, musical concerts and Opera, as well as the annual children's pantomime. It also hosts the lively Fringe theatre and the Community And Education Program and is home to the prestigious Buxton Festival and the international Gilbert and Sullivan Festival, as well as the Four-Four Time Festival Of Live Music.
It is now an exquisitely beautiful Edwardian theatre and one of the country's finest examples of Frank Matcham Theatre design.
The Pavilion Arts Centre
The Pavilion Arts Centre is Buxton Opera House's new second theatre, which opened in September 2010, just behind the Opera house and housed in what was formerly the Paxton suite of the Pavilion Gardens complex. It has two auditoria, the 93 seat Studio Theatre and a 360 seat Main Room. Both have their own entrance on St John's Road and the Main Room also has its own brand-new, spacious bar and dedicated box office, which is open for Main Room shows only for one hour before each performance.

Both auditoria have very modern retractable seating which enables each to be used for lots of diverse occasions, not only for performances but also for workshops, exhibitions and fairs as well as the all-important rehearsals. When the stalls and bleacher seats are fully retracted, the Main Room reveals around 200 m² of flat rehearsal or exhibition space. The Studio Theatre, which also acts as the main stage to the Main Room has around 80 m² and the two rooms are separated by a soundproof partition, if two performances are going on at the same time.

The Main Room has 78 seats in the stalls, 140 in the tiered balcony which gives a great viewpoint of the magnificent vaulted ceiling which has been exposed for the first time in over 30 years, having been fully restored to its original glory. There is also a 140 tiered bleacher seating area. This theatre is used for stand-up comedy, including the Buxton's Comedy Club, and music which includes lunchtime recitals, lunchtime jazz and the Four -Four Time live music festival concerts, which were previously presented in the Pavilion lounge. There is also a programme of cinema and summer festival performances by the Buxton Festival, the International Gilbert and Sullivan Festival and Buxton Festival fringe.

The studio Theatre has a flat small performing area of just 6 m x 5 m and houses the small-scale dramas, which are included in the programme of fringe theatre, this studio had a home in the Paupers Pit Theatre and the Studio Theatre is also used for hosting brand new program shows for children and families, which used to be staged in St John's Church or other nearby venues.