Solomon's Temple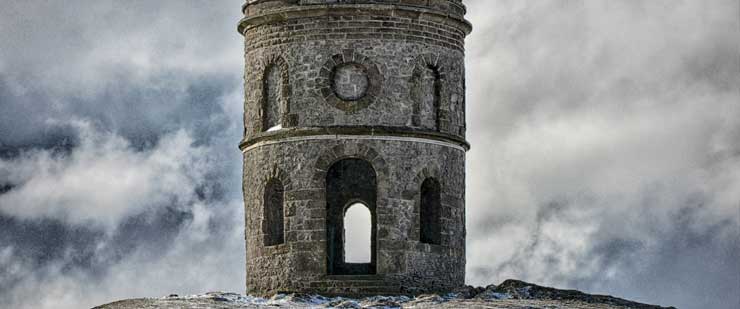 Solomon's Temple is actually a folly, at the summit at Grin hill, just a 20 minute brisk walk from Poole's cavern. It is also known as Solomon Tower and was built originally in Victorian times by Solomon Mycock in the 1890s. It was paid for by public subscription to provide work for the locally unemployed with assistance of the seventh Duke of Devonshire and the tower was restored in 1998, also by public subscription. The tower replaced a previous structure by Mycock, a local farmer and landowner and it has no practical purpose whatsoever!
The structure is a 20 foot high two a storey tower built on top of a Bronze Age barrow, a site of special significance, which sits right on top of a ridge. During the construction, an archaeological dig revealed several Bronze Age skeletons which was said to have come from the 'Beaker' period. The Beaker people arrived in the Peak District near Buxton around 2000 BC from Northern Europe and their culture eventually merged into the Bronze Age. They prepared for the afterlife and lots of different burial mounds have been found around the Buxton area. Rare bronze earrings were discovered with a female skeleton at Staker Hill, just south of Buxton. Liff's Low burial mound, near Biggin, included the usual beaker as well as tools, fragments of ochre, boar's teeth and the skeleton of a man holding a quartz pebble. The skeleton and beaker excavated from here are displayed at Buxton Museum, together with similar cinerary urns containing cremated bones and other pottery.
From the top of the tower, there are spectacular views over the town and surrounding countryside but the tower doesn't contain anything other than the staircase to the top.
It is certainly worth pausing for a breather from the exertions of climbing the hill and look across the High Peak, beyond the impressive dome of the former Devonshire hospital, which is now the University of Derby and the sprawl of Buxton, where in fine weather, you can see for 50 miles.
Try to spot on the horizon, Mam Tor at Castleton, and Kinder Scout, which is the highest point in Derbyshire Peak District, standing at 2088 feet high. The folly remains one of Buxton's most distinct landmarks.