Pavilion Gardens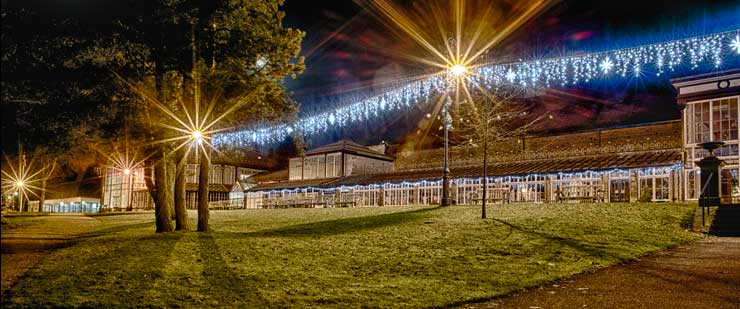 The Pavilion Gardens is a real gem of a place in the heart of Buxton, nestled in 23 acres of pleasure gardens which have recently been restored to their former glory.
The gardens were first opened in August 1871 and with the arrival of the railway in 1863, it was a time of a boom period, and houses, hotels , boarding houses were built on Broad Walk and Burlington Road, which border and overlook the gardens. At the same time, the seventh Duke of Devonshire suggested that private citizens should also put money into a company to improve all the amenities in Buxton and fortunately there were people in the town at the time who were willing to do this and to pay for the improvements with their own money. The Duke responded by giving 9 acres, which was later extended to the present 23 acres by ducal gifts. It was given on condition they were used exclusively for the purposes of such gardens and pleasure grounds.
An eminent landscape gardener was appointed, Edward Milner, and in a very short time, the gardens opened on 11 May 1871, to be followed in August by the opening of the Pavilion. The concert hall, which is now known as the Octagon, was designed by Buxton architect Robert Rippon Duke and was added in 1889. It has since changed its name to the Pavilion Theatre, the Hippodrome, the Playhouse and the Paxton Suite. While owing to the success of the theatre, the company, known since 1889 as The Buxton Gardens Company, decided the theatre should be extended and improved and so the Opera House was opened in 1903. The Buxton Corporation acquired the buildings, pleasure grounds and gardens and the council have managed the site ever since.a
The gardens have recently undergone a seven-year restoration project, which was completed in 2004 at a cost of £4.5 million. Receiving the support by the Heritage lottery fund, it achieved its aim of restoring the Pavilion Gardens back to its original Victorian style. The gardens are now enjoyed by over 500,000 people every year and it's not surprising with the gorgeously manicured lawns, the lovingly looked after trees, shrubs, borders and the combination of walks, lakes, play areas and the miniature train make it a firm favourite in the hearts of families who come to visit.
The miniature railway train operates between 11:30 AM and 5 PM throughout the weekends and everyday during the school holidays, unless there are extreme weather conditions. Children under three travel free of charge and passengers enjoy two circuits of the track and enjoy the scenery and grounds around the lakes.
There is a new cafe at the Pavilion Gardens with a brand-new menu, lots of home-cooked dishes and locally sourced produce. Enjoy coffee or afternoon tea and admire the view across the garden and once the children have finished having a great time outside, there is an added families own and baby station.